Existing Pfizer and Modelna vaccines for the new coronavirus (SARS-CoV-2) are mRNA type, but the following group is evaluating prototype vaccines using adeno-associated viral (AAV).
https://www.biorxiv.org/content/10.1101/2021.01.05.422952v3.full.pdf
Therapeutic gene transfer using AAV is recognized as a highly safe method, and Glybera, Luxturna, Zortensma etc. have already been approved by the FDA and EMA as gene therapeutics.
Vaccines using two types of AAV have been prototyped. AAVCOVID-19-1 (AC1) encodes a full-length S protein, which expresses an antigen S protein on the cell membrane of an infected cell. Another, AAVCOVID-19-3 (AC3), encodes part of the S protein, and the antigen takes the form of a secretory protein.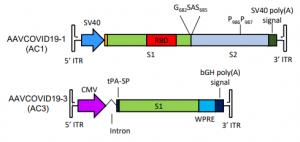 The evaluation was carried out with mice and nonhuman primates, and the immune response was retained for about 5 months with a single doze. There is no problem with storage at room temperature for one month, and vaccines are amenable to large scale production because the methodology has been established. As an effect, AC1 seems to be higher than AC3.
However, the blog Admin has some concerns that the antigen genes are incorporated into cells.