Hepatocytes are essential for toxicology testing of pharmaceuticals in vitro. Hepatocyte strains such as HepG2, Huh7, THLE-2, PLC-PRF-5, and AML-12 are used. A group from the National Center for Child Health and Development has established a new immortalized hepatocytes  named HepaMN from from a liver associated with biliary atresia. Immortalization was performed by inoculation with CDK4, cyclin D1, and TERT.
https://www.nature.com/articles/s41598-020-73992-3
Characteristics of HepaMN strains:
Established from untransformed hepatocytes, and has normal liver function and diploid chromosomes,
Expression of albumin gene at the same level as HepaRG,
Showing the cell morphology of hepatocytes,
Induces stable cytochrome P450 3A4 (CYP3A4) and shows normal metabolic effects,
Efficiently proliferates and is stable even in very long passages,
As a result, succeeded in providing a new and useful hepatocyte strain for toxicology testing.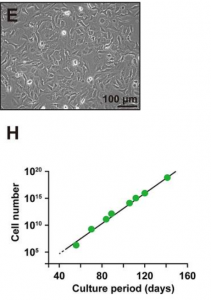 HepaMN can be effectively cultured by EMUKK-15