A group from Department of Laboratory Medicine, Shengjing Hospital of China Medical University, Shenyang, China, etc. has reported about aberrant glycosylation observed in Hashimoto's thyroiditis.
https://www.ncbi.nlm.nih.gov/pmc/articles/PMC10348014/
Hashimoto's thyroiditis (HT) is the most common autoimmune thyroid disorder and is characterized by lymphocyte infiltration of the parenchyma and the presence of antibodies specific to thyroid antigens.
In this study, a total of 53 serum samples collected from 27 patients with HT and 26 healthy controls (HCs) were used for lectin microarray analysis, and it was found that the majority of the lectin binding signals in HT group were weakened compared with the HC group, while the Vicia villosa agglutinin (VVA) binding signal was increased.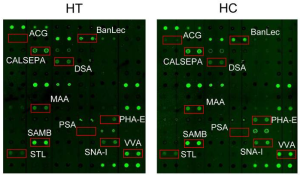 Mx thinks that the quality of lectin microarrays used was not GOOD enough.