A group from Department of Laboratory Medicine, University of California, San Francisco, CA, USA. etc. has reported that Gal-9 enhanced SARS-CoV-2 infection.
https://pubmed.ncbi.nlm.nih.gov/35378763/
It was found that Gal-9 enhances SARS-CoV-2 replication in human airway epithelial cells (AECs), mediated by facilitating cellular entry in an ACE2-dependent manner, by enhancing the attachment of SARS-CoV-2 virions to the cell surface by bridging the pathogen surface and receptors on host tissues in a glycosylation-dependent manner.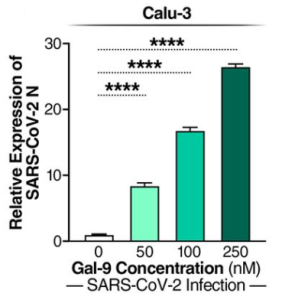 Clinically speaking, small molecules and anti-Gal-9 monoclonal antibodies (e.g. LYT-200) that antagonize Gal-9 activity may have utility in COVID-19.