A group from Soil and Environmental Biotechnology Division, National Institute for Biotechnology and Genetic Engineering College, Pakistan Institute of Engineering and Applied Sciences (NIBGE-C, PIEAS), Punjab, Pakistan, etc. has reported that the type of consortia of beneficial rhizospheric bacteria changes with soil nutritional status and agro-climatic datasets
https://www.ncbi.nlm.nih.gov/pmc/articles/PMC9878846/
Despite the great significance of biostimulants in sustainable agriculture, there is still a lack of integrated technology encompassing the successful competitiveness of inoculated phosphate-solubilizing bacteria (PSB) in agricultural systems in the context of climatic conditions/meteorological factors and soil nutritional status.
Bacterial strains used in this study are a subset of a large collection of PSB isolated from the rhizosphere soil of wheat grown in different agro-ecological zones of Pakistan. All of the strains used in the present study have multiple plant growth-promoting attributes, i.e., phosphate solubilization, zinc solubilization, indole acetic acid production, and organic acid production.
Three different consortia were designed by selecting soil-/site-specific PSB for recommended wheat varieties to that particular site.
Consortium-1, Enterobacter spp. ZW32, Ochrobactrum sp. SSR, and Enterobacter spp. ZW9.
Consortium-2, Enterobacter spp. D1, Ochrobactrum sp. SSR, and Pantoea sp. S1
Consortium-3, Bacillus sp. TAYB, Ochrobactrum sp. SSR, and Pseudomonas sp. TJA
Interestingly, soil-specific consortia improved various wheat growth parameters under respective soil conditions.
For instance, the maximum grain yield (5,390 kg ha-1) was observed as a result of consortium-1 inoculation at site 2 followed by site 3 (5,240 kg ha-1) and site 1 (4,806 kg ha-1), and in the case of consortium-2, the maximum grain yield (5,324 kg ha-1) was observed as a result of consortium-2 inoculation at site 6 followed by site 5 (4,806 kg ha-1). The effect of consortium-3 was not so significant compared with consortium-1 and -2. However, the effect is clearly shown compared to the state with 20% less fertilizer.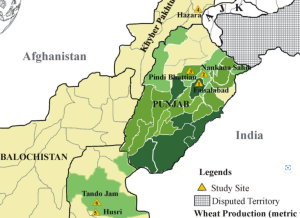 This study demonstrates for the first time the need to integrate soil biological health and agro-climatic conditions for consistent performance of augmented PSB and enhanced P nutrient uptake to reduce soil pollution caused by the extensive use of agrochemicals.