A group from Department of Molecular Biology, Osaka International Cancer Institute, Chuo-ku, Osaka, Japan, etc. has reported that some urinary free-glycans were upregulated in some cancer patients.
https://pubmed.ncbi.nlm.nih.gov/35413075/
Free glycans in urine with α1,3-fucosylation, triply α2,6-sialylated tri-antennary structures and/or a (Man3)GlcNAc1-core were upregulated in cancer patients. Simple α2,3-sialylation and α1,6-core-fucosylation did not appear to contribute to the observed increase in the level of glycans. The figure below shows such examples.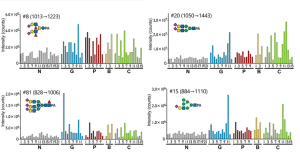 G: gastric cancer, P: pancreatic cancer, B: cholangiocarcinoma and C: colorectal cancer