A group from University of British Columbia, Canada has reported whether HIV antibodies could neutralize SARS-CoV-2 or not.
https://www.nature.com/articles/s41598-021-91746-7
Cross-reactive interactions of three HIV antibodies (2G12, PGT128, PGT126) in the presence of methyl α-d-mannopyranoside, a stabilized mannose analogue, were evaluated using an ELISA assay. Disruption of cross-reactivity was observed for all these antibodies with increasing concentrations of methyl α-d-mannopyranoside, demonstrating that the binding of these antibodies to SARS-CoV-2 were via glycan sensitivity of these interactions.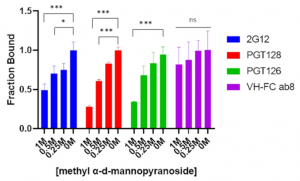 HEK293-T cells stably overexpressing ACE-2 were incubated with SARS-CoV-2 S pseudo-typed virus harbouring a luciferase reporter gene, in the presence of serial dilutions of three HIV antibodies. Luciferase activities in cellular lysates were determined 48 h post-infection (RLU: relative luciferase units). However, no neutralization capabilities were detected for these antibodies over a wide range of concentrations, while VH-FC ab8 demonstrated potent neutralization, a positive control antibody VH-FC ab8 which targets the SARS-CoV-2 RBD.

But, the blog admin thinks that the infection to immune cells (i.e., macrophages) expressing C-type lectins might be neutralized by these HIV antibodies?