A group from Catarina Hioe, Icahn School of Medicine at Mount Sinai, New York, USA, etc. has reported that HIV infection is enhanced by interaction with an O-glycan-specific bacterial lectin.
https://www.ncbi.nlm.nih.gov/pmc/articles/PMC9949255/
I was shown that the O-glycan-specific lectin SLBR-N, which is expressed on oral commensal Streptococcus gordonii strains and recognizes α2–3 sialylated O-glycans on HIV-1, was found to enhance HIV-1 infection in the context of both cell-free virus infection and a CD4-dependent cell-to-cell viral transfer assay.
Surprisingly, virus treatment with SLBR-N enhanced virus infection up to 4-fold in a dose-dependent manner, while strangely, the interaction with high-mannose N-glycan-binding bacterial lectins FimH and Msl did not affect infectivity.
This strange mechanisms by which SLBR-N and other O-glycan-binding lectins increase HIV-1 infectivity are not fully understood.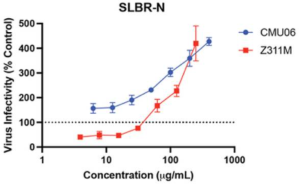 CMU06 and C.Z331M are full length infectious molecular clones oh HIV-1.